Research
1. Tourism Products of India – A National Perspective by Robinet Jacob, Mahadevan P, Sindhu Joseph
This book has been structured around various key tourism resources of India. This book explores the issues pertaining to customs and traditions of India, painting, dance forms, music, fairs and festivals, handicrafts and souvenirs. Aimed at providing an overview of the tourism resource potential of India, the book exhaustively deals with all the new trends in tourism and accommodation. Travel regulations for visiting India are one of the core areas focussed in the book.
---
2. Health Tourism and Ayurveda by Robinet Jacob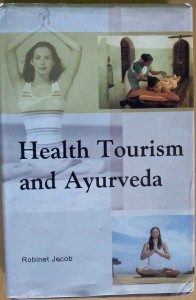 This book provides a fresh perspective on the emerging trends in health tourism based on Ayurveda. The variety of topics covered includes health management on an Indian and International perspective, basic principles of Ayurveda, impact of ayurvedic tourism on economy, society, environment etc.The book also focusses on various resources and facilities of Ayurvedic tourism. It exclusively deals with panchakarma and its allied procedures. Effort has been put to give a clear picture on Kerala's strengths in promoting Ayurvedic tourism.
---
3. New Facets of Tourism Management Edited by Robinet Jacob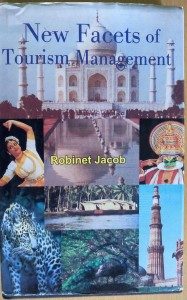 The book provides a fresh perspective on the existing and emerging areas of travel and tourism industry by focussing on contemporary problems and prospects. The variety of topics covered include prospects of E-tourism, Assessment of Tourism Practices, Government and community partnerships in Tourism, Sustainable tourism, rural development thorugh tourism.
---
4. Indian Tourism Products by Robinet Jacob, Sinshu Joseph, Anoop Philip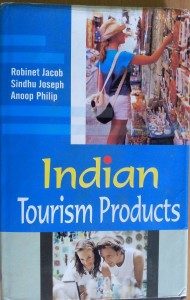 This book provides a new perspective on tourism resources of India. Effort has been put to give a clear picture of innovative tourism development strategies like eco-tourism resources and sustainable tourism. A detailed discussion on the new concepts in tourism and accommodation sector is another feature.
---
5. Le Fancais Pour Tous by Cyril Mathew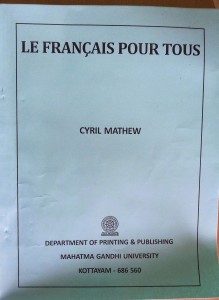 Les Francais Pour Tous est une me'thode comple'te de francais pour adolescents et adultes de'butants. Le livre s'adresse a' tous les aspirants de la langue français,en particulier les apprenants indiens.
Le livre donne de l' importance e'galement a communicative français et la grammaire.
Le livre assure apprentissage avec un certain nombre d'exemples de conversation,des exercices de traduction et des exercice de grammaire.ll donne egalement des sections suffisantes pour lire et d'apprendre des elements culturels.
---